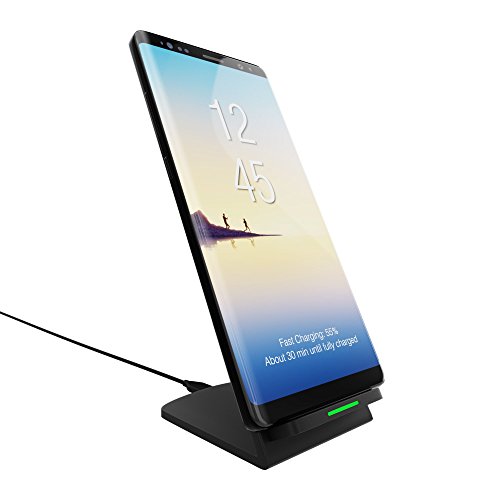 Product Features
Works with iPhone X, 8, 8 Plus also Compatible FAST CHARGING MODELS: Fast charge modes are ONLY available for Galaxy - S8, S8 Plus, S7, S7 Edge, Note 8, 5, and S6 Edge Plus models. All other Qi-enabled devices will charge at regular speed.
STAND DESIGN: Customers can charge their phone vertically or horizontally, which means they can enjoy movie and music, making calls or sending messages without interrupting charging.
INTELLIGENT LED INDICATOR: Intelligent LED indicator on the wireless charger shows the state of charging. When no phone is connected the stand will turn blue. When the phone is charging it will turn green and when charging is completed it will turn back to blue.
NOTES: For fast charge mode, this QC 2.0 adaptive fast wireless charger requires a QC 2.0 adapter (NOT INCLUDED) as its power source. It's normal for your phone to get warm or even warmer during the charging process. We recommend removing your phone case if you are using one.
Model Number: D-02B
New Price: $29.99
Old Price: $29.99
You Save: $13.00
(as of 03/20/2019 11:06 UTC -
Details
)
Product Description
TechMatte Quick Charge Wireless Charging Stand – an effortless and wireless, device-charging experience of the future.
The TechMatte Quick Charge Wireless Charging Stand is an innovation in charging technology – combining the simplicity that you crave with the cutting-edge technology that you deserve. No more hassling with wires and untangling cables – simply place your device on the pad and our Charger will handle the rest.
Model Number: D-02B
Works with:
iPhone X, 8, 8 Plus
Samsung Galaxy S8, S7
Samsung Galaxy S8 Plus, S7 Edge, S6 Edge Plus
Samsung Galaxy Note 8, 5
Dimensions:
Size (LWH): 7cm x 7.5cm x 12cm
Weight: 4.2 oz
Color:
Black
What's in the Box?
(1) TechMatte Quick Charge Wireless Charging Stand
(1) Micro USB Cable
(1) User Guide
Warranty:
30-Day Money Back Guarantee
18 Month Replacement Warranty
**Protective cases that exceed 5 mm / 0.2 inch thick may prevent charger from working properly. In this case, remove it before charging.
**Please confirm that your cell phone is Qi-compliant. Otherwise, please supply your own Qi-compliant back-cover adapter to enable your device to charge.

Customer Reviews