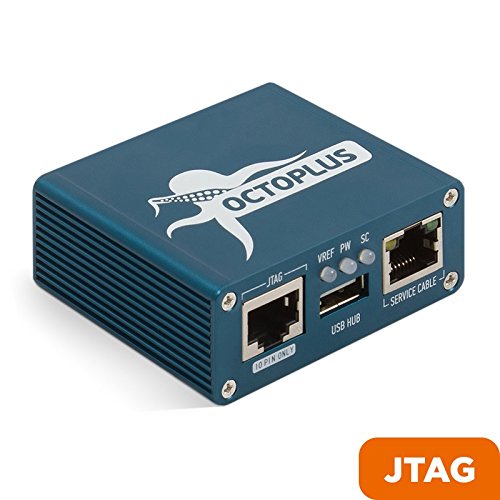 Product Features
Octoplus Box old version is a groundbreaking phone servicing solution that combines unibox and JTAG interfaces
(as of 03/20/2019 11:14 UTC -
Details
)
Product Description
Octoplus Box JTAG old version – the most robust and frequently updated tool for Samsung, LG and other brands on the market!
Octoplus Box is a groundbreaking phone servicing solution that combines unibox and JTAG interfaces and supports over 530 Samsung, 900 LG and 460 by JTAG mobile devices.
Octoplus Box JTAG – Outstanding Features:
Repair IMEI
Unlock
Read Boot/Flash
Write Boot/Flash
Erase Boot/Flash
Repair Boot/Flash
Multilingual software interface
Please note that you can perform a wide range of servicing operations with Octopus/Octoplus Server Credits, Octopus/Octoplus Unlimited Sony Ericsson Activation, Octopus/Octoplus Samsung Activation and Octopus/Octoplus LG Activation.
Octoplus Box Hardware
FTDI integrated circuit for COM-port emulation via RJ45 socket for servicing mobile phones
Innovative Alcor smart-card controller for rock solid smart-card protection
Industrial grade fast 55 MHz ARM7 32-bit RISC processor for JTAG operations via RJ50 socket
RJ50 male to 20-pin female adapter available for easy and convenient 3rd party JIGs usage
Purchasing Octoplus Box JTAG You Get
Octoplus Box
Integrated JTAG interface
6 months of warranty
6 months of FREE access to the premium flash file download area at Boot-Loader v2.0
Free Octoplus Box Support Area
JTAG set JTAG Clip by GsmServer – 1pc.
Set of large diameter needles (P75-B) – 25 pcs.
Set of small diameter needles (P50-B) – 25 pcs.
Set of JIG adapters – 6 pcs.
Set of RJ-50 (10P10C) cables for soldering – 5 pcs.
Octoplus JIG adapter – 1pc.
Copper wire 0.1 mm – 1pc.

Customer Reviews