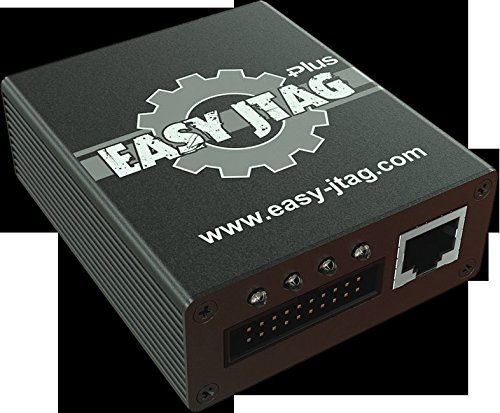 Product Features
• Supports eMMC, ISP, JTAG, SPI, NAND, and many more protocols.
• One click device repair.
• Compatible with 99% host PC systems and OS.
• Plug and Play for Windows OS 8/ 8.1/10
• Free activation for new users
New Price: $105.68
Old Price: $105.68
(as of 03/20/2019 11:36 UTC -
Details
)
Product Description
Z3X Easy-Jtag Plus Lite Upgrade Set is designated for those users, who already own Z3X Easy-Jtag, but want to increase its possibilities and enjoy new features.
Z3X Easy-Jtag Plus is an innovative all in one service tool for phone and phone boot repair, data recovery, SPI memory programming and many other features. Supports eMMC, ISP, JTAG, SPI, NAND & other protocols.
Offer is valid for the boxes activated before 07.07.2017.
Hardware features:
Updated Host MCU SAM3X8E
Updated high-speed FPGA SPARTAN6
Updated power management subsystem – full digital PWM with ADC control
Added Micro-USB connector
Added VCC and VCCQ switch with overcurrent protection
Updated USB device interface: USB 2.0 480 Mbps
Integrated ISP engine: Z3X high power pro engine (4 MB/s)
Added eMMC 8-bit high-speed interface up to 42 MHz
Integrated NAND* engine: NFC with 4 KB RAM buffer and ECC
Integrated M-PHY* interface
Integrated SPI engine: up to 21 MHz clock for popular SPI memory flash IC
Integrated self-test core that excludes 90% faults in production
Hardware benefits:
Box to Host PC speed increased up to 40 MB/sec
Compatible with old Easy JTAG 1st generation ISP adapters (1 bit)
Compatible with most of the popular eMMC sockets (with supplied adapters)
Z3X Easy-Jtag Plus Full Set – Package Content:
Easy-JTAG Plus Box Hardware
Free activation for new users (6 months old boxes)*
USB A-B cable
Adapter set (JTAG, ISP 1BIT, ISP 4BIT, U-SOCKET, E-SOCKET)
1 year guaranteed free support access
*A smart card is not included. Need to use the card from an old box.
**The supplier retains the right to change some positions in the list of cables and accessories coming together with the product.

Customer Reviews